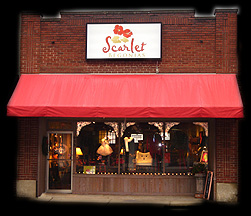 Scarlet Begonias is a gift boutique with distinctive allure. The shop opened in Mount Airy, NC in November 2005, revealing a renovated 1920s style mercantile that offers a treasure-trove of modern luxuries and valued gifts.
The décor is an eclectic mix of the old and the new and mirrors the mixture of merchandise available for purchase. Displayed on the store's antique oak tables, mantles, and counters one will find unusual, captivating pieces of leatherwork and clay, wrap sweaters and wrought iron accents; hand-painted serving pieces, wearable art, and classic gifts for newborns and children. Also showcased is handmade jewelry and original works from up-and-coming designers, as well as several long-celebrated artisans. Works from local, national, and international artists, musicians, writers, and craftsmen are displayed throughout the store where the open floor plan invites browsing and then more browsing.
Ensuring that the store has some of the most unique and affordable pieces available,owner Amy Slate has ventured far and wide looking for unique designs. With a passion for the handmade and the people who make it, Slate designed Scarlet Begonias as an outlet for kindred fans of the handcrafted. Many items are exclusive, limited edition, or one of a kind. "The discovery of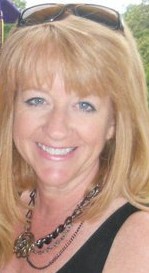 talented designers from different parts of the world was an integral part of the make up of the store," said Slate. "Scarlet Begonias is the first boutique to bring many of these emerging names to Mount Airy and to North Carolina."
Scarlet Begonias seeks to pamper the customer with style, originality, quality and serendipity… in a manner that is fun and affordable. If you're looking for something to wear that inspires, look no further than the jewelry of Dori Csengeri or Mark Edge. If you want a funky little bauble that is fun to talk about, consider the collage jewelry of Caramia Visick or the metallic bracelets and rings of Christophe Poly. Handmade salsa serving spoons in pewter make perfect gifts, and Cristella Milano scarves in 100% cashmere are the ultimate in luxury.
"Consciously or subconsciously, what I like to wear or give strongly influences what I buy or consign. Equally influential are the people I have met and the culture in places I have lived, visited, or read about. I purposefully partnered with artists, craftsmen, and business entities that have a good story to tell; whether it is the story of a mother-of-two handcrafting baby spoons or a 16 year-old designer recently accepted to attend the North Carolina School of the Arts for her jewelry making." Slate reasoned. "We hope to offer a service to dedicated designers who struggle to find appropriate outlets for their work; and a venue for customers who crave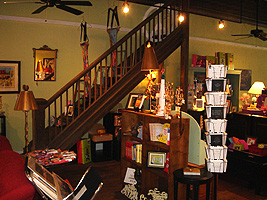 unique, handmade items in an age of mass production."
Scarlet Begonias has definitely put the "thought" into thoughtful gift giving. And, it is hard to deny the charm of a small, hometown boutique that offers appealing and affordable merchandise. Authentic French lavender soaps? Letter pressed stationery? Italian cashmere? These little luxuries are now available at Scarlet Begonias…right in your own backyard, which is, according to Slate, "the best place to start when looking for exactly what you want."